The transport sector accounts for 18% of total energy consumption in India. This translates to an estimated 94 million tonnes of oil equivalent (MTOE) energy. If India were to follow the current trends of energy consumption, it would require an estimated 200 MTOE of energy supply annually, by the year 2030 to meet the demand of this sector. At the moment, this demand is being met mostly through imported crude oil, which therefore makes this sector vulnerable to the volatile International crude oil prices. Moreover, the sector also contributes an estimated 142 Million Tonnes of CO2 emissions annually, out of which 123 million tonnes is contributed by the road transport segment alone.
Keeping in view the climate change commitments made by Government of India during the COP21 Summit held at Paris to reduce emission intensity by 33- 35% by 2030 from 2005 levels, it is pertinent to introduce alternative means in the transport sector which can be coupled with India's rapid economic growth, rising urbanization, travel demand and country's energy security. Electric mobility presents a viable alternative in addressing these challenges, when packaged with innovative pricing solutions, appropriate technology and support infrastructure and thus, has been on the radar of Government of India.
Electric mobility will also contribute to balancing energy demand, energy storage and environmental sustainability. Electric vehicles could help diversify the energy needed to move people and goods thanks to their reliance on the wide mix of primary energy sources used in power generation, greatly improving energy security. Thanks to their storage capacity, they could help support the uptake of clean electricity, enabling greater use of variable renewable in electricity production. If coupled with the decarburization of the power sector, electric vehicles would also provide major contributions to keep the world on track to meet its shared climate goals.
Electric mobility comes with zero or ultra-low tailpipe emissions of local air pollutants and much lower noise, and, by being one of the most innovative clusters for the automotive sector, can provide a major boost to the economic and industrial competitiveness, attracting investments, especially in countries.
The Electric Vehicle industry in India is far behind, with less than 1% of the total vehicle sales. Currently, Indian roads are dominated by conventional vehicles and have approximately 0.4 million electric two-wheelers and a few thousand electric cars only. The Indian EV industry has been on the back seat due to various challenges.
The government of India have undertaken multiple initiatives to promote manufacturing and adoption of electric vehicles in India. With support of the government, electric vehicles have started penetrating in the Indian market. However, availability of adequate Charging Infrastructure is one of the key requirements for accelerated adoption of electric vehicles in India.
Availability of adequate Charging Infrastructure is one of the key requirements for accelerating the adoption of electric vehicles in India. In this regard, Ministry of Power has issued "Charging Infrastructure for Electric Vehicles – Guidelines and Standards" mentioning the roles and responsibilities of various stakeholders at Central & State level, for expediting the development of public EV charging infrastructure across the country. Ministry of Power has designated Bureau of Energy Efficiency (BEE) as the Central Nodal Agency (CNA) for the National-level rollout of charging infrastructure in the country.
About Electric Vehicle
Electric Vehicles (EVs) are run by electric motors which are powered by energy stored in batteries. EVs have an electric motor instead of an Internal Combustion Engine (ICE). As an EV runs on electricity, the vehicle emits no exhaust from a tailpipe i.e. it has zero tail pipe emission and does not contain components, such as a fuel pump, fuel line, or fuel tank.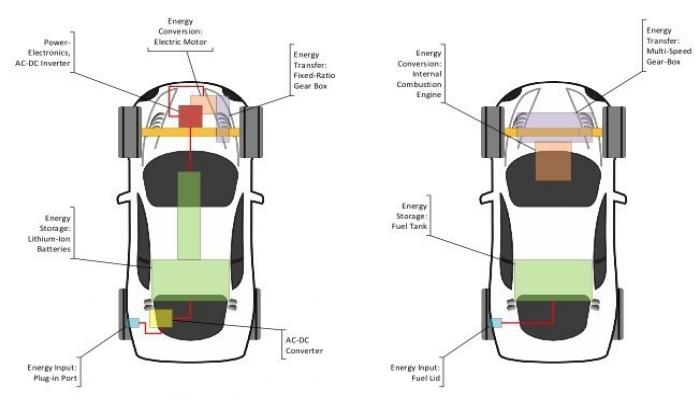 Figure 1: Components of Internal Combustion Engine Vehicle and Electric Vehicle
Benefits of choosing an Electric Vehicle (EV) over Internal Combustion Engine (ICE) Vehicle
Other Benefits:
Economical:

EVs have fewer moving parts as compared to ICE, thus EVs need less maintenance.

Higher efficiency, lower fuel cost and lower operational cost makes EVs economical than ICE vehicles.

Improved Air quality:

EVs have no tailpipe emission as compared to ICE vehicles. Adopting EVs will help in reducing local air pollution.

Shifting to EVs will reduce Greenhouse Gas (GHG) emissions that gets emitted from running an ICE vehicle.

Convenience:

EVs have no gears and are much easier to drive than ICE vehicles

The lack of a combustion and mechanical drivetrain makes EVs much quieter

Comfortably charge at home

Upfront incentives from Government to EV owners

Incentive for scrapping ICE vehicles

EV owners can claim income tax deduction up to Rs 150,000 under Section 80EEB

Reduced dependence of imported fossil fuel for the Country
Electric Vehicle Myth Busters
Transport sector is not a major contributor to emissions

Transport sector accounts for 23% of global GHG emissions. A study conducted in New Delhi on vehicular emissions shows that transport sector contributes significantly to particulate matter and NOx emission causing respiratory ailments. Through adoption of EV, the vehicular emission can be brought down significantly, hence enabling a healthier lifestyle.

EVs take too long to charge

Time of EV charging depends upon the type of charger adopted for charging. Currently available EVs across vehicle segments (2-wheeler, 3-wheeler, 4-wheeler) can be charged from 0%-80% in around, 1 – 5 hours from Slow/Moderate chargers while using Fast chargers, EVs can be charged in less than 1 hour. Fast chargers are mainly used to charge electric 4-wheeler. Rate of charging is also dependent upon Cell Chemistry.

EVs are costly

Although EVs might have a higher upfront cost, the Total Cost of Ownership (TCO) of EVs is quite low, as charging, maintenance and operational costs is much lower than that of ICE vehicles. Moreover, the upfront subsidy provided by the central/state government further reduces the overall cost of EVs.Calculator to estimate tentative TCO is available at below link:

EVs have Low Range

With introduction of high-density batteries in EVs, the storage capacity of batteries has increased thus improving the range of EVs. The average range of electric 2-wheelers currently available in the market is around 84 km per charge which is sufficient for day to day travel within a city and the average range of electric cars available in the market is between 150-200 km per charge. Further, upcoming models across vehicle segments have higher battery capacity and range.

EVs are not safe

EVs are safe as all EVs undergo rigorous safety testing. The challenge of fire and explosion risk in batteries is being addressed by most EV manufacturers with their efficient and intelligent Battery Management Systems (BMS) which perform task of cooling, heating, insulation & ventilation of Batteries, etc. The certification agencies, Automotive Research Association of India (ARAI), International Centre for Automotive Technology (ICAT) does rigorous testing for overcharge, short circuit and vibration. Thus, it is safe to drive an EV.

EVs have Low Speed

EVs are equipped with high-speed powertrains therefore EVs offer better acceleration and speed. As far as speed is concerned, EVs available in the Indian market have top speeds depending upon the model selected / opted. EVs have a high starting torque as compared to ICE counterparts and accelerate faster.

EV batteries need to be replaced frequently

EV batteries today have warranty of 3 to 8 years, across electric 2-wheeler, 3-wheeler and 4-wheeler categories. The actual battery warranty may vary depending upon the vehicle usage.

There are not enough EV charging stations

Government is pushing deployment of EV charging stations by providing capital subsidy through Faster Adoption and Manufacturing of (Hybrid &) Electric Vehicles in India, (FAME) India Scheme Phase II and state level initiatives. Further, government has delicenced the activity of setting up EV charging stations to increase private sector investments and facilitate market adoption. Thus, in the coming years there will be sufficient availability of Public Charging Stations (PCS) for EV owners.
Frequently Asked Questions on Electric Vehicles
What is an EV?

EVs are electric vehicles with rechargeable batteries which can be charged by electricity from an external source.

What is an EV Supply Equipment (EVSE)?

EVSE includes the electrical equipment external to the EV that provides a connection for an EV to a power source for charging and is equipped with advanced features like smart metering, cellular capability and network connectivity.

What are different specifications of Charging Infrastructure?

Specifications of charging infrastructure as per guidelines issued by Ministry of Power:

                                                  Table 1: Specification of Charging Infrastructure

Charger Type

Charger Connectors*

Rated Output Voltage

No. of Connector Guns (CG)

Charging EV Type

Fast

Combined Charging System (CCS) (min. 50 kW)

200 – 750 or higher

1 CG

4-wheeler

CHArge de MOve (CHAdeMO) (min. 50 kW)

200 – 500 or higher

1 CG

4-wheeler

Type – 2 AC (min. 22 kW)

1 CG

4-wheeler, 3-wheeler, 2-wheeler

Slow / Moderate

Bharat DC-001 (15 kW)

48

1 CG

4-wheeler, 3-wheeler, 2-wheeler

Bharat DC-001 (15 kW)

72 or higher

1 CG

4-wheeler

Bharat AC – 001 (10 kW)

230

3 CG of 3.3 kW each

4-wheeler, 3-wheeler, 2-wheeler

*In addition, any other Fast / Moderate / Slow charger as approved by Department of Science & Technology (DST) / Bureau of Indian Standards (BIS) standards whenever notified.

Note: Type – 2 AC (min. 22 kW) is capable of charging electric 2-wheeler / 3-wheeler with the provision of an adaptor

What are the types of EV?

EVs include Plug in Hybrid Electric Vehicles (PHEVs) and Hybrid Electric Vehicles (HEVs) in addition to pure battery electric vehicles (BEVs). PHEVs use both petrol / diesel and electricity. These vehicles have two power systems, an internal combustion engine and a battery. The battery can be recharged by plugging the vehicle into an external source. HEVs combine conventional ICE systems with electric propulsion systems. They use regenerative braking to convert energy that is normally wasted during braking into electricity. This electricity is stored in a battery.

                                   Figure 3: Electric Vehicle                                                        Figure 2: Plug-in Hybrid Electric Vehicle

Are EVs less polluting than ICE vehicles?

Conventional petrol / diesel vehicles and Compressed Natural Gas (CNG) vehicles contribute to particulate emissions which is a major reason for vehicular based emission. Battery operated vehicles have zero tailpipe and noise emissions.

How long does it take to charge an EV?

An electric car having around 30 kWh battery pack takes less than 1 hour to be charged up to 80% of its battery capacity using Fast Charger (50 kW), while to attain similar percentage of charging, Slow / Moderate charger (15 A plug) takes around 8 hours.

How much does it cost to charge an EV?

The cost for a single charge (home charge) shall vary State to State as per notified State EV tariff and battery capacity of the vehicle. This can be estimated by the formula = Battery capacity (in kWh) X EV charging tariff (in INR/ kWh) (Refer State EV tariffs)

Is it costly to operate an EV over a period as compared to an ICE vehicle?

An EV has a higher upfront cost of procurement as compared to its ICE counterpart. However, the cost of charging, maintaining and operating an EV is lower than the ICE vehicle which in turns reduces the TCO of an EV. For example, Tata Tigor and Tata Tigor EV has been considered for calculation. Tata Tigor has a claimed range of approximately 20 kms per litre. Assuming, a running of 100 kms, it would consume around 5 litres of petrol. Assuming the cost of petrol of INR 86.95 per litre, as of 08 Feb 2021. Hence, the cost of travelling 100 kms is INR 434.75. Tata Tigor EV, with a total battery capacity of 21.5 kWh, the total cost of charging the EV would be 21.5 kWh x INR 4.5 per kWh (Assuming EV home charging tariff for Delhi), i.e. around INR 96.75. Hence it is economical to operate an EV than ICE vehicle.

Where can I charge my EV?

EV can be charged either at PCS or at your home. Government is deploying PCS at a faster pace so that EV owners can charge their vehicles comfortably. Apart from this, many Oil Marketing Companies (OMCs) are setting up EV charging stations at their oil retail outlets / fuel pumps such that EV owners can easily locate charging stations.

How can I find an EV charging station near me?

A lot of technology providers (i.e. Network Service Providers) are developing mobile based applications which shall provide information about nearest public charging point location, expected waiting time and cost of charging.

Are EVs safe?

All EV batteries go through rigorous testing procedures at National Accreditation Board for Testing and Calibration Laboratories (NABL) certified labs. Certification agencies in India like ARAI, ICAT certify EV and Chargers. Thus, it is safe to drive an EV.

What are the benefits from the government for purchase of EVs?

Central as well as State governments have been promoting adoption of EVs by providing fiscal as well as non-fiscal incentives. Some of the incentives being provided on purchase of EVs are: • Upfront capital subsidy under FAME India Scheme Phase II • Goods & Services Tax (GST) on EVs has been reduced from 12% to 5%, • Income tax deduction can be claimed on the interest paid on loans taken for purchase of EVs.
Central government incentives to Electric Vehicle owners
National / State Electric Vehicle Policies and Regulations
Regulations issued by Ministry of Power, Government of India
Regulations issued by other Ministries
State EV policies:
State Electric Vehicle Tariffs
* The above links of Tariff Orders is updated as on 11th Feb 2021.

* Please find State Wise Electricity Supply tariff for PCS: LINK
State Nodal Agencies under the provision of "Charging Infrastructure for Electric Vehicles-Guidelines and Standards" issued by Ministry of Power
1. Charging infrastructure for Electric Vehicles(EVs)-Revised Guidelines and Standards issued on 01.10.2019
2. Charging Infrastructure for Electric Vehicles (EV) – the revised consolidated Guidelines & Standards issued on 14th January 2022