National Energy Conservation Award and Painting Competition
The National Energy Conservation Awards are presented to industry and other establishments and prizes to the winners of the annual Painting Competition on Energy Conservation for school children every year by the Ministry of Power with the objective of promoting energy conservation among all sectors of economy.
National Energy Conservation Awards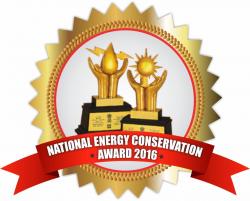 The annual energy conservation awards recognize innovation and achievements in energy conservation by the industries, buildings, zonal railways, state designated agencies; manufacturers of BEE star labeled appliances, electricity distribution companies, municipalities and raise awareness that energy conservation plays a big part in India's response to reducing global warming through energy savings. The awards are also recognition of their demonstrated commitment to energy conservation and efficiency. The scheme has motivated industry and other establishment to adopt energy efficiency measures.
39 sub-sectors of Industry, thermal power stations, office buildings, BPO buildings, hotels, hospitals, shopping malls, zonal railways, railway workshops, railway stations, municipalities, State Designated Agencies and manufacturers of BEE Star labeled appliances/equipment and electricity distribution companies are included in the Awards. In total there are 56 Sub-sectors from the above main sectors. The responses among the industrial and commercial units have become very encouraging as is evident from the increasing participation level (from 123 in 1999 to 1010 in 2014).
Electrical energy savings in terms of equivalent avoided capacity (mw) per year by the participating units through implementation of energy saving projects.
Painting Competition on Energy Conservation for School Children
The habit of conservation is best introduced and inculcated at the school age. It has been seen that the Children are the best agents of change and in this case we need to equip them with the information and knowledge on energy conservation and create interest among them on this important subject.
In this regard, Ministry of Power has taken an initiative and has been organizing Painting competition on Energy Conservation for students since the year 2005.The competition is held in three stages, namely, School, State and National Level since 2005. In order to strengthen the campaign, higher classes of 7th, 8th and 9th standards are also being included from this year onward in addition to existing classes of 4th, 5th and 6th Standards. Students of 4th, 5th& 6thstandard students under Category 'A' and for 7th, 8th& 9th standard students under Category 'B' are eligible to participate in the competition.
The National Painting Competition on Energy Conservation 2014 was a resounding success. Across the country, about 60.17 lakhs students from all over the country have participated.  This participation was about 33% higher than that in the previous year, which is being organized all over the country in association with Bureau of Energy Efficiency and 11 CPSUs under Ministry of Power. 29 States/ UTs have surpassed student's participation figures of year 2013.
The paintings drawn by children reflected their interest in the energy conservation activities and their concern about energy crises and climate change, and have effectively conveyed inspiring ideas in their impressing paintings. The vibrant designs, the confident depiction of the topic and remarkable composition seen in these paintings reflects clear understanding of the subject themes in the minds of these young children. 
          LET US UNDERSTAND PAINTING COMPETITION
Painting Competition for State Level Advertisement 2015: